Hotel Radisson Blu Amritsar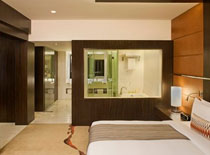 About Hotel :
Welcome to Radisson Blu in Amritsar, home to the beautiful to Golden Temple and a city of cultural attraction, historical monuments ,unforgettable traditional dining experiences and Indo-Pak shopping opportunities. Keeping in the mind the cities zeal to celebrate the smallest and largest monuments with great pomp and show, it is the idea palace to stay and celebrate.

Accommodation :
Rest well in stylish Amritsar hotel rooms The Radisson Blu Hotel Amritsar features 186 modern, carefully appointed guest rooms and suites. All rooms boast contemporary furnishings, flat-screen LCD TVs, electronic safes, mini bars and a host of other convenient amenities. To accommodate the needs of all guests, the hotel features accessible rooms, dedicated rooms for smokers and rooms with wooden floors (limited number available on request) for those allergic to carpets.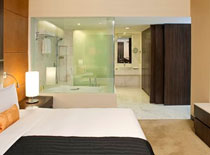 Services :
Amritsar airport hotel provides shuttle service, exceptional amenities Take advantage of convenient guest services at the Radisson Blu Amritsar airport hotel, including airport transfers, complimentary high-speed Internet access, on-site Fitness Centre, swimming pool and the luxurious Spa. Guests traveling to Amritsar on a pilgrimage to Golden Temple will appreciate the hotel shuttle to and from the temple at scheduled hours. Book a stay at the Radisson Blu Amritsar to enjoy the best in amenities and services offered in the city.

Facilities :

Tariff

Categories of rooms
Rack Rate
Jeet travels Special Rate
Superior Single
INR 8000
INR 4500
Superior Double
INR 8500
INR 5000

Rates valid Till 31st March 2014
Tax Extra as Applicable
The above rates are inclusive breakfast & complimentary pickup from railway station & Airport Only.
Free Shuttle available to Golden Temple at 04:00 am ,9:00 am or 08:00 pm