Punjab Gurdwaras Darshan Sikh Pilgrimage Package
Itinerary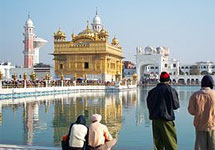 Day 01 Arrival Amritsar
Arrive Amritsar Railway Station/airport. On arrival meet and greet by our representative who will take you to the hotel. Check in hotel. Overnight stay.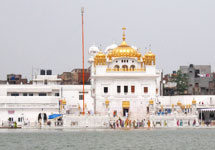 Day 02 Amritsar-Tarn Taran Sahib-Goindwal Sahib-Khadoor Sahib-Sultanpur Lodhi
After breakfast Start your full day Gurdwara Yatra in and around Amritsar starting from Sri Harmandir Sahib (Golden Temple)-the most important sikh shrine which is also called Mecca for the Sikhs is a living symbol of the spiritual and historical traditions of the Sikhs. Then visit Gurdwara Shri Tarn Taran Sahib- is a Gurdwara established by the fifth guru, Guru Arjan Dev.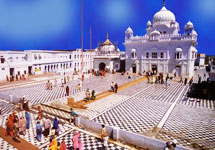 It is situated in the city of Tarn Taran Sahib. It has the distinction of having the largest sarovar (Water pond) of all the gurudwaras. Also it is famous for the month gathering of pilgrims on day of Amavas (No moon night). Then Visit Khadoor Sahib- Sri Khadur Sahib was the family home of second Guru Sri Guru Angad Dev Ji. The Guru settled here with his wife Mata Khivi and raised their three children here. Sri Guru Angad Dev Ji established his religious center here and spent the rest of his life at Khadur Sahib. Here Shri Guru Angad Dev appointed Guru Amar Das as his successor and the third Guru. A grand Gurudwara Khaddi Sahib, has been constructed here, in memory of Guru Amar Das.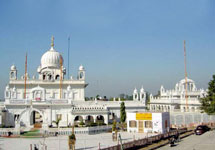 Then proceed to Goindwal Sahib, visit Gurdwara Shri Baoli Sahib- This was the first centre of Sikhism and was established by Sri Guru Amar Das Ji. The Hindus went on pilgrimage to Hardwar and Benaras but the Sikhs needed a place of their own. Understanding this, Sri Guru Amar Das Ji purchased the land and personally helped in the construction of the Gurdwara and Baoli (well) with 84 steps leading down to it.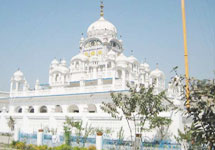 Proceed to Visit Gurdwara Shri Hatt Sahib at Sultanpur Lodhi - Sri Guru Nanak Dev Jee, the founder of the Sikh faith, spent 14 years in Sultanpur Lodhi, situated in Kapurthala district of Punjab. His brotber-in-law,Jai Ram, got him employed in the service of Nawab Daulat Khan Lodhi who was much impressed by the intellectual equipment of Nanak. He worked as an accountant there.
Back to Amritsar. Overnight stay.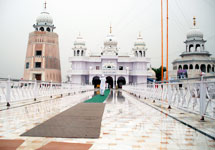 Day 03 Amritsar - Sri Damdama Sahib Bhatinda (186 Kms. / 4 hours)
After breakfast proceed by car to Bhatinda. Visit Takht Sri Damdama Sahib- Damdama Sahib is situated in the village of Talwandi Sabo near Bhatinda. This is where Guru Gobind Singh stayed for nearly a year and compiled the final edition of the Guru Granth Sahib known as the Damdama Sahib Bir in 1705. Overnight at Bhatinda.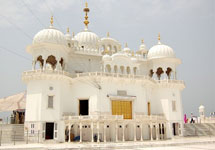 Day 04 Bhatinda - Anandpur Sahib(180 Kms / 3 hours)
After breakfast start your journey for Anandpur Sahib- Keshgarh Sahib is situated at Anandpur. It is considered the birthplace of the Khalsa. The Khalsa order was founded here by Guru Gobind Singh in 1699. Some of the weapons of Guru Gobind Singh are displayed here. The most precious of these is the actual Khanda (double edged sword) used by Guru Gobind Singh to prepare the amrit (sweet water) used in the first Khalsa initiation ceremony. Proceed to Amritsar . Overnight stay at Amritsar.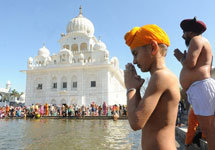 Day 05 Amritsar Local Gurdwara Darshan - Departure
After Breakfast proceed to the darshan of Gurdwara Sri chheharta sahib, Gurdwara Baba Budha Jee, and Gurudwara Sahid Ganj Sahib (Baba Deep Singh jee Sahid) Later Transfer to Railway station/Airport for onward journey.
Gurudwara Darshan Packages