Shopping in Amritsar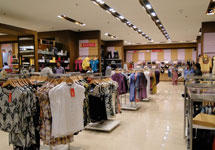 Amritsar Shopping Mall has many amenities to make your shopping experience the most comfortable, convenient and enjoyable experience possible! you can walk the mall comfortably, knowing your kids are having fun "driving" the sporty.
Shopping in Amritsar is a delightful experience for the avid shopper. The state of Punjab has a fairly rich tradition of handicrafts and handlooms.
The state is noted for exquisite handicrafts like phulkari (traditional embroidery), lacquered woodwork, jewelry etc. These are the items, you should look for while shopping in Amritsar.
Also go for the Punjabi jutis (shoes), which are typical of this region. Hand-woven carpets, blankets, woolen garments and of course Patiala salwar (the traditional Indian garments with a Punjabi twist in design) are hit with those who want to do some shopping in Amritsar.
Jams, jellies and pickles of Punjab are quite famous and are available in Amritsar in galore. Do not forget to pick up a bottle or two along with some dry fruits while shopping in Amritsar.
There are several shopping joints in the city. The old city bazaars are better places for shopping traditional Indian wears in Amritsar. Trendy shopping malls with swish interiors are quite common in the city. If you want to shop top brands, do give them a shot.
Alternatively, hang out at Cooper Road, Mochi Bazaar, Guru Bazaar, Shastri Market for some good shopping in Amritsar.
AlphaOne Amritsar
AlphaOne Amritsar, the biggest lifestyle and shopping destination in Punjab, will be the one stop place for everything you desire. From shopping to entertainment, from the best of lifestyle brands to one of Asia's largest food courts, specialty dining, Amritsari Bazaar, the mall boasts of all this and much more.
Amritsari Bazaar is another exclusive inclusion in the mall and also our initiative to bring together the traditional and western feel under one roof. The conventional and typical Amritsari market at the top floor of the mall blends in well with the presence of the cream of international brands such as Tommy Hilfiger, Hidesign, Nike, Adidas, Reebok etc., giving an option to both local and foreign shoppers to have a fresh and innovative experience.
Customer convenience has always been our priority and for this, we have ensured 1200 vehicles hassle-free car park at the mall. The concept is backed by architectural excellence, state of the art infrastructure, customer friendly zoning and the adherence to international standards, is set to make this the most popular destination in Amritsar.
Come, celebrate the perfect blend of east and west under one roof.
Come, celebrate Punjab, celebrate life with us!

The Celebration Mall- Amritsar
Visiting Amritsar? Then be prepared for a shopping spree like no other you have ever been on. The shopping streets of Amritsar- Hall Bazaar and Katra Jaimal singh, are lined with traditional ethnic wear, with all kind of varieties. But if you are someone who wants everything under one roof, and that also in the comfort of air conditioning, dust proof, noise proof environment then head straight towards, The Celebration Mall.
Opened on 17th Dec' 2009, it enjoys a prime city centre location at Gagan Chowk. One can expect a bustling atmosphere inside. The name of the mall was coined to signify celebration in everyone's life, vivaciousness, bustling energy and a modern lifestyle. This is exactly what the mall provides today to all its visitors.