Amritsar Cuisine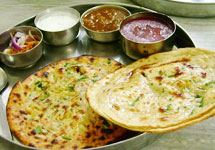 A trip to Amritsar is worth it only for the food here. This is the land of ghee and butter illustrating all Punjabi stereotypes of hearty eating. People with dietary restrictions might want to go easy on the rich fare. Incidentally, Amritsar has the highest incidents of heart disease in the country. Although Pizza Hut and Costa Coffee have set shop here, head for the traditional fare for real culinary bliss.

When in Amritsar do sample the real chhola-kulcha, different from anything you might have tasted before. Fresh from the tandoor, the kulchas are stuffed with potato and onion, sprinkled with zeera on top and served with a generous dollop of butter. The chhole, chick peas, are spicy and slightly minced and come with a chutney of onions in a paste of tamarind and jaggery.

A must visit is the Chhole-Kulche Wala Dhaba on Maqbool Road where you can enjoy the food sitting outside in the shade of trees. Big cars as well as cycle rickshaws are parked here in a happy mix of democracy and secularism Amritsar exemplifies. A thali will cost you Rs. 15.

For more genteel surroundings visit Bharawan da Dhaba opposite Town Hall. Popular with the locals, this eatery has been in business since 1917 has grown into an air conditioned restaurant. Try the kaali daal and the various thalis on offer, none of which will cost you more than Rs. 70 per person. Also try Amritsar's famous sweets such as phirni and ras malai served here, as well as all over the city in small dhabas and kiosks. If you want to go for something lighter after the heavy meal, take advantage of the numerous juice vendors and kiosks selling freshly cut fruit right outside, opposite Town Hall.

For a typical Amritsari breakfast (or brunch, considering how heavy it is), visit Kanha's at Lawrence Road serving fluffy poories with tangy potato curry. The city is big on rich snacks too and you can stop by at any neighbourhood kiosk and gorge on crisp samosas and spicy kachauris. Top it all up with a frothy glass of lassi from the stalls at every corner. Also do not miss the langar at the Golden Temple.