Dal Makhani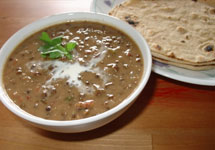 Dal makhani is a delicacy from Punjab in India . Pulses are a highly nutritious food group comprising beans, peas and lentils, it is essentially filled with rich proteins and fiber.

Traditionally this dal was cooked slowly, for hours, on charcoal. This gave it a creamier texture. Traditionally cooked in a Punjabi house, it had 'malai' (thick creamy skin that forms on top of milk) or fresh butter added to it. When cooked at home these days, more moderate amounts of cream or butter are used. When prepared in restaurants, it is cooked slowly on low heat and often has a large amount of cream and butter added, hence the 'buttery' taste. Traditionally lentils and beans were generally soaked overnight or for at least 8 hours and gently simmered on low heat along with ginger, garlic and a few other spices (garam masala). These are then combined with a tangy masala base which includes onions, tomatoes (chopped or puree) or dried mango powder or even pomegranate seeds.

Dollops of fresh cream and butter lend the rich finishing touch. It is also garnished with finely chopped coriander leaves and fresh cream. It is a sumptuous meal and a staple diet in Punjab and most of Northern India. It is a very good source of energy and extremely healthy if cooked in less oil/butter. It is often had with roti or rice.

Dal makhani is a type of daal eaten in India and Pakistan in the states of Punjab, Haryana, Delhi, Uttar Pradesh and the Bhojpuri area of Bihar. It is eaten with either naan or chapatis.