Samosa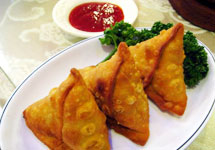 A samosa is a common snack in the Indian subcontinent

Ingredients The popular vegetarian version contains flour (maida), potato, onion, spices, green chili. It is often eaten with chutney, such as mint, coriander or tamarind. It can also be prepared as a sweet form, rather than as a savory one.
Non-vegetarian versions can contain meat or sometimes fish filling.

History Samosa has been a popular snack in the Indian subcontinent for centuries. It is believed that it originated in Central Asia (where they are known as samsa) prior to the 10th century. It generally consists of a fried triangular- or tetrahedron-shaped pastry shell with a savory filling of spiced potatoes, onion, peas, coriander, and sometimes fresh paneer.

Variants Non-vegetarian samosas may substitute fillings of minced meat or fish. The size and shape of a samosa, as well as the consistency of the pastry used, can vary considerably, although it is mostly triangular. In Hyderabad, India, a smaller version of the samosa with a thicker pastry crust and mince filled is called a Lukhmi.

Chamucas from Goa Samosas are often served in chaat, along with the traditional accompaniments of yogurt, chutney, chopped onions and coriander, and chaat masala.

Popularity Samosas have become popular in the United Kingdom, South Africa and East Africa, Persian Gulf countries and in Canada and the United States. They are often called "samboosa" or sambusac by the Arabs. In South Africa they are often called "samoosa". Frozen samosas are increasingly available in grocery stores in Canada and the United States.

Punjabi Samosa with chutney While samosas are traditionally fried, many Westerners prefer to bake them, as this is more convenient and is perceived healthier (this could be seen as an example of fusion cuisine). Variations using phyllo or flour tortillas are not unheard of in Western countries. In Portugal and Goa, samosas are known as chamuças and they are very popular in Lisbon, usually filled with beef or pork. Chicken and vegetarian versions are rare. Chamuças are also popular along the West Coast of Africa and in Mozambique.