Railway Station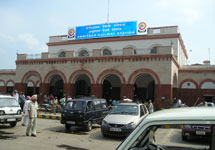 Amritsar railway station
Amritsar Junction Railway Station is a railhead of the Northern Railways. Kathihar Express, New Delhi Express, Howrah Express and Shatabdi Express are the important trains that pass through the station. Traveling south, the major railhead is at Gurdaspur (71 km). Tourist Information Center is provided on the premises.
In the immediate vicinity of the station, Hotel Royal Castle, Mohan International Hotel and Grand Hotel offer excellent and comfortable accommodation. Just 3 km from the station is the bus station. Amritsar International Airport is the nearest airport (11 km).
Station Code: ASR
Enquiry: +91-183-2225028

As the first "International" train between India and Pakistan chugged along the railway track towards Wagah (village in Pakistan on border ) the nearly 25 Kms of journey to border took more than one and half hour in a third class compartment .