Sri Guru Ram Dass Jee International Airport, Amritsar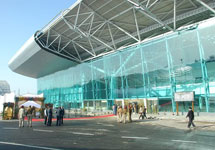 Expansion and renovation
The city of Amritsar has long remained the cultural and tourist capital of Punjab, and the demand for a fully operational international airport has increased in recent years. A newly finished arrivals terminal was inaugurated in September of 2005, and a finished departures terminal has been operational since March 2006. This new terminal is a blend of modern and Indian designs, constructed of glass and steel, but with Indian arches and colours. Amritsar Raja Sansi Airport (ATQ) has now begun Phase II of its development.

A brand new cargo handling facility due to demands from exporters in Punjab, Haryana and Himachal Pradesh, who have no alternative apart from Delhi which is far too far away
The proposed site for the Permanent Perishable Cargo Centre is located close to the air cargo complex, which has a capacity of 200 tonnes per day
Passenger terminal building size to be doubled to 41,000 square m
Four new air/jet bridges to be installed for the convenience of passengers (Amritsar currently has 0 air / jet bridges)
Four more parking bays to be added by 2008 (ATQ currently has 5)
The runway extended by 369 meters to a total length of 3,658 meters.

ATQ is well connected to the roads and main highways of Punjab. While private transport in the form of automobiles is the most popular way of reaching the airport, public transport infrastructure (with the exception of taxis) has remained weak. However this is set to change with the Punjab State Government's unveiling of plans to launch regular bus services between the airport and other cities of Punjab. Air India has also unveiled plans to provide regular bus services for its ATQ passengers to and from Jalandhar. The state government has also unveiled plans to build a monorail line to connect the airport with the Golden Temple and the Railway Station in Amritsar.