Kheer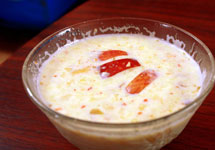 Kheer" in English may be recognized as "Rice pudding".
Kheer have traditional values in our Sub-continent. It is a symbolic dish for some festivals also.
Kheer have an identification of good luck cuisine in our Sub-continent.
First we should know "What is Kheer"?
It as a sweet dish of basic ingredients Rice and Milk., Sugar or Jaggery add for its sweet atste.
Preparation of Kheer add Rice and Sugar or Jaggery with nuts in boiling milk.
Now it is important in Sub-continent major communities used it as its festive values.
Kheer used with festive value at Muslim's festival "RAJJAB" or different Niyaz .
It use with same value in Hindu community on Holy,Budh poornima,Sharad
Poornima and Karwa chauth.
It use in weddind ceremony with a good luck value in India Pakistan.

There is different types of Kheer ::
(1) Kheer
(2) Phirni
(3) Gajrella ( Carrot ki kheer)
(4) Lauki ( Pumpkin) ki kheer.
(5) Zafrani ( Safforn) ki Kheer.
(6) Gur ( Jaggery) ki kheer..
ZAFRANI KHEER......